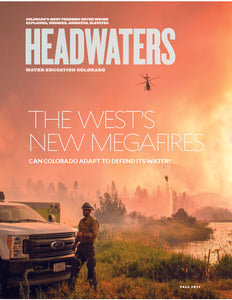 Headwaters Magazine: The West's New Megafires (Fall 2021)
Fall 2021 Headwaters issue. Colorado's wildfire season is a summer norm, but wildfires have grown more frequent, intense, large and destructive. After a burn, debris, chemicals and soils can result in contaminated water and emergency flooding. As communities recover from recent fires, they're learning and applying more resources than ever to forest health work. With wildfires projected to increase in the future, will Coloradans be better prepared to live with fire? Flip through and read the issue online here. 
Want to buy bulk quantities? Purchase discounted sets when ordering 25 or more copies.