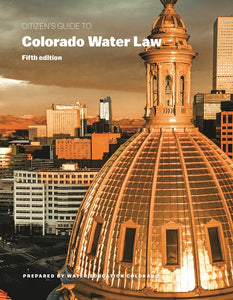 Citizen's Guide to Colorado Water Law, Bundle of 10
Regular price $80.00 Sale
Each bundle contains 10 copies of the Citizen's Guide to Colorado Water Law, 5th edition.
Want to purchase fewer than 10 copies? Buy individual copies here.
This useful desk reference, authored by Justice Gregory Hobbs Jr, explores the basics of Colorado water law, how it has developed, and how it is applied today. Readers can learn more about surface and ground water allocation and regulation, understand concepts such as interstate compacts, or read about how a "call" for water works.
We would like to extend our appreciation to the following sponsors for making the publication of this Citizen's Guide possible:
Alyson Scott Law
Brownstein Hyatt Farber Schrek
Northern Water
Pueblo Water
Rio Grande Water Conservation District