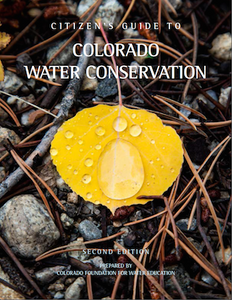 Citizen's Guide to Colorado Water Conservation, Bundle of 10
Regular price $80.00 Sale
Each bundle contains 10 copies of the Citizen's Guide to Colorado Water Conservation.
Want to purchase fewer than 10 copies? Buy individual copies here.
This Citizen's Guide looks at the current water conservation technologies, incentive programs, regulations and policies promoting efficient water use in Colorado. Not a "how-to" book, but a reference for those who need a balanced overview of the opportunities and challenges for water conservation in Colorado today.

We would like to extend our appreciation to the following sponsors for making the publication of this Citizen's Guide possible: