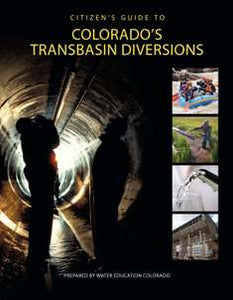 Citizen's Guide to Colorado's Transbasin Diversions, Bundle of 10
Regular price $80.00 Sale
Each bundle contains 10 copies of the Citizen's Guide to Colorado's Transbasin Diversions.
Want to buy fewer than 10 copies? Purchase individual copies here.
Changing the direction of a river from its natural course:  it sounds dramatic, and it can be. These transbasin diversions have changed Colorado's landscape and economy. With high demand for Colorado's water, and needs that differ across the state, transbasin diversions have resulted in some long-standing grudges between basins, but also cooperative agreements that created good neighbors and environmental stewards.
This guide highlights the history, costs and benefits of these controversial water projects, from both an historic and current point of view.
We would like to extend our appreciation to the following sponsors for making the publication of this Citizen's Guide possible: